Module:Uncharted: The Board Game
From Vassal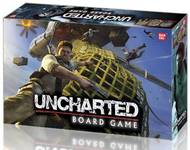 Files
Module Information
| | |
| --- | --- |
| Maintainer | Barry Figgins |
| Contributors | |
Comments
As a licensed game, Uncharted is far better than it has any right to be! The main flow of the game is sort of like a CCG: you'll play cards from your hand to the table, then once they're on the table you can use their special ability once per round. Cards will allow you to draw more cards, search for treasure, or defeat enemies.
A lot of the interesting decisions in the game come from the versatility of the cards. At any time, any card in your hand could be 1) Played to the table, 2) Discarded to pay for playing another card, or 3) Discarded to activate a special ability based on its color. No matter what you draw, your hand will be full of options.
Version 1 of the module is complete and functional. The module's help file lists some upgrades I'd like to make eventually, such as modified decks for higher or lower difficulty, and better z-sorting in each player's play area.
Screen Shots
Players