Module:Verdun 1916: Steel Inferno
From Vassal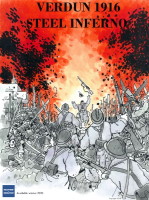 Files
Module Information
| | |
| --- | --- |
| Maintainer | Tim Porter |
| Contributors | |
Comments
A PDF guide on using the module is on the Help menu. Changes at version 1.1 of the module are detailed in this PDF.
Note: The module does not include the playaid sheet with the US entry, and event VP information.
It is important to use the Game Turn control on the toolbar to set, and to change, the current Turn. The module uses the Turn number to restrict which cards can be chosen, and which cards can be randomly drawn, from the respective draw decks into the players hands. The turn marker on the Turn/Tours track cannot be moved directly by the players. It is automatically moved by the players operating the Game Turn control on the toolbar. Note: The players must still enforce the rules on allowing, or disallowing, the playing of cards on an invalid turn. If a player changes the turn, even temporarily to see what cards will become available next turn, cards will not be automatically discarded or removed from the game. That is for the players to enforce themselves.
Screen Shots
Players
Tim Porter
Pierre Miranda