Module:Wacht am Rhein': The Battle of the Bulge, 16 Dec 44-2 Jan 45
From Vassal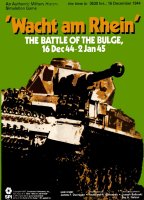 Files and Module Information
Filename
Filetype
Size
Date
Compatibility
Developer
Other Contributors
1.3 East is up Orientation
WAR SPI 1977 V13.vmod
Module
29.23 MB
2021-01-15
3.4.11
Bill Clancy
John Edwards
1.0 North is up Orientation
SPI Wacht am Rhein.vmod
module
55.44 MB
2021-01-09
3.4.8
Phillip Weltsch
1.1 North is up Orientation
Wacht am Rhein Alt.vmod
module
30.23 MB
2021-03-20
3.5.2
Comments
WAR SPI 1977 V13.vmod created by Bill Clancy
There is a "Read me" in the Help menu. It will help you understand some of the game functions.
There's also a third variant of this game from Decision Games, https://shop.decisiongames.com/SearchResults.asp?searching=Y&sort=9&cat=106&show=60&page=1

BC: This link references the Decision Games remake of Whact am Rhein. The game is very different from the original, so their module will be different.
The modules, here, cover the first edition game from SPI.
Screen Shots
Players