Module:Waterloo
From Vassal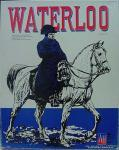 Files and Module Information
Comments
From http://www.boardgamegeek.com/boardgame/5296/waterloo
Refight the last great campaign of Napoleon, in this fast-moving game of military strategy. Over 160 die-cut counters representing the massed armies of France, Prussia, and the Dutch Anglo-Allies maneuver and engage in combat on a full-color, 22" x 28" mapboard.
Version History / Notes
A1.0 - Improved implementation of AH Waterloo, with proper oblique numbering of the hexgrid, automated reinforcement arrival, improved movement reporting, graphic OOB's and Arrival charts, and more.
0.09 - Implementation of Avalon Hill's classic game, Waterloo.
v2.2 (18MAR2012) - Waterloo from Avalon Hill and Waterloo from Avalon Hill with John Cooper artwork ...

Added proper hex grid coordinates as per "The General" Vol2No1; Map now split into 9 pieces to make memory usage lighter.
Added controls for turning movement trails on and off, a single button to mark all pieces on all maps and charts as unmoved.
Both modules have been rewritten from the ground up. Artwork was redrafted, larger counters, improved interface, and better playing aids and reference charts etc.

... Scott

Other
Please support Bill and Scott's work, even if you prefer my module.
No offense to John Cooper, whose artwork I love and use with my son, but the removal of 1/2 hex row on the eastern edge of the mapboard I believe is an unnecessary adjustment of play balance in favour of the PAA. My versions (A-1.0) use updated artwork (by Imaginative Strategist) which retains the original extent of the playing area.
Screen Shots
Players
P. Geerkens
scotty
brianbritton