Module:Wavell's War
From Vassal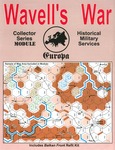 Files
Module Information
| | |
| --- | --- |
| Maintainer | SteelDragon (RWeston) |
| Contributors | SteelDragon (RWeston) |
Comments
Version 2.0 notes (RWeston) After some playtesting, I have made some improvements to the module. Unfortunately, because of the changes made, the save files from the previous versions will NOT be compatible with this version.
1. Added maps 17-21 to the game, allowing someone the option to use the full map for the East Africa campaign. Also, anyone playing the Africa Campaign, Wavell's War, or Southern Theater of Operations campaign scenarios could use the module for the East Africa portion of these scenarios.
2. Added Convert to GSPs and Convert to Resource Points commands to Attack Supply counters that are only enabled when the Sequence of Play indicates either the Allied or Axis Initial Phase.
I hope everyone enjoys the module. If anyone has any suggestions or if looking for a game of Wavell's War East Africa Campaign, then let me know.
Version 1.1 notes (RWeston) Save files from the previous version will not be 100% compatible with this version.
1. Cleaned up the map to lower the size by about 35% so the game loads up quicker, scrolls more smoothly and looks more attractive.
2. Added the additional units and a campaign game setup for those who want to play with the Italian Fantasy 3 (East Africa) OOB Option. Also, added division holding boxes on the Axis Game Chart for the new divisions.
3. Added an Allied 1/4 VP counter to the Victory Points track since the Allied player can score 1/4 of a victory point from excess ARPs.
Wavell's War Advanced and Optional Rule Options v1_1.pdf notes (RWeston) - fixed the tab order for the fields.
Version 1.0 notes (RWeston) This module will allow you to play the East Africa campaign from Wavell's War.
Under the help menu, you will find a Counter and Order of Battle Errata page that details all of the discrepancies I found while developing this module.
Since the rules contain so many Advanced and Optional rules, I have also created a fillable PDF form to make it easier for players to come to an agreement on which of these rules to use.
Screen Shots
Players