Module:Way of the Ninja: Capture the Shoguns Enemies!
From Vassal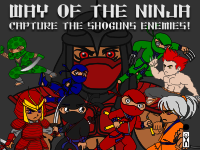 Files
Filename
Filetype
Size
Date
Compatibility
v0.5b
WOTNv0.5b.vmod
Beta Module
2.95 MB
2014-07-06
3.2.12
v0.6b
WOTNv0.6b.vmod
Beta Module
4.05 MB
2014-08-09
3.2.12
Module Information
| | |
| --- | --- |
| Maintainer | InnerYou Games |
| Contributors | InnerYou Games |
Comments
The Shoguns enemies have escaped! As a Ninja, you are tasked to capture them back. But beware! Your rival Ninjas are on the same task! It's an all-out war to gain the Shoguns favor! Who will win?
Way of the Ninja: Capture the Shoguns Enemies! Or simply WOTN is a card and dice game designed to be played by 1 up to 4 players of ages 12 years and above and can be played for a minimum of 30 minutes and onwards
The objective of the game is to acquire victory points by defeating as many enemies as you can and reach the end of the game by defeating all bosses hidden inside the Enemies pile. At the end of the game, the player or team of players with the most number of victory points wins!
[WIP]
This module is a work in progress. A lot of automation and fixes needs to be added in order to improve it. But even without automation, the game is playable in its current state.
Screen Shots
Players