Module:Where There is Discord
From Vassal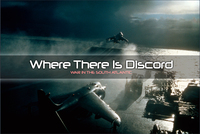 Files
Filename
Filetype
Size
Date
Compatibility
1.2
wtid-1.2.vmod
module
10.66 MB
2013-04-25
3.2.4
1.1.1
wtid-1.1.1.vmod
module
10.67 MB
2012-09-18
3.20.beta2
Module Information
| | |
| --- | --- |
| Maintainer | Conor Hickey |
| Contributors | |
Comments
Module does not contain Events Booklet or charts, you will need copies of these to play.
Version 1.2:
Red/White Dice Window fixed.
Sending the appropriate Weather counter to the Weather Box (via right-click) now sends the appropriate Sortie, Harrier Recovery, and Detection markers to the correct boxes. Return the Weather marker at the end of the day to also return the other markers.
The International Opinion marker can now be moved with a right-click menu, and doing so automatically removes or replaces the various markers it affects. The markers can still be moved manually but will then not automate.
Toolbar command added to open a 'Random Draw' window if you have more than 6 ships in a Zone, one has been targeted and there is no easy die roll to enable you to pick one of them.
SAS unit can be sent to each airfield via a right-click menu as well as moved manually.
Remaining phases (primarily San Carlos ones) added to phase list.

Version 1.1.1:
HMS Valiant and HMS Onyx can now be rotated like the other subs.
Fixed Argentine Ground Forces not rotating when on their Out of Supply side.
Added four troop ships to the reverse side of four ships already in the game, as per errata:
St Edmund - Sir Tristram
Norland - Sir Galahad
Nordic Ferry - Sir Lancelot
Baltic Ferry - Sir Percivale
Thanks to Moshe Ben-Sira for pointing these out. This update edited in Vassal 3.20.beta2 so you will need that to use.
Version 1.1:
Added Destroyed/Removed Vessels Window.
Changed the dice in the D12 Roll to a red and white dice as needed for San Carlos/Task Force Targeting once the invasion has begun.
Stack seperation increased slightly to make counting of British ships easier on main map.
More typos fixed and Phase List for Argentine Ground Placement changed to 'on and after May 21'
Screen Shots
Players