Module:Wing Commander Armada PNP
From Vassal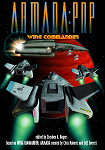 Files
Module Information
| | |
| --- | --- |
| Maintainer | Stephen Rogers |
| Contributors | |
Comments
This game is based on Wing Commander: Armada by Origin Systems. A discussion thread for this game may be found here.
Please be sure to download and read the PDF for information on how to play the game. Pieces may be placed via standard drag and drop. Damage may be inflicted to units with the open-bracket key ("[") and removed with the close-bracket key("]"). If a player wishes to rearrange pieces in a stack, it is recommended they pull the stack to their deck area first; it will then be necessary to right click to select the to unit individually, drag it off, and repeat as needed.
This mod is intended for use for playtesting purposes only and does not represent a finished product at this time. Should the original holder of the Armada IP request it, all copies of this mod will need to be deleted; by downloading or copying this mod, you automatically agree to delete it upon request.
Update for v. 0.1.14: The strength ratio calculator is finally working, though it does not round to a single decimal point with more complex strength ratios. Remember to round down to the next half integer when utilizing it. Both version 0.1.13 and 0.1.14 utilize the rules version 0.7.1.
Screen Shots
Players