Module:World At War 85: Starter Kit
From Vassal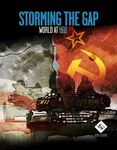 Files and Module Information
English
Main Game
Filename
Filetype
Size
Date
Compatibility
Developer
Other Contributors
1.3
LnLP_WaW85_StarterKit_v1.3.vmod
Module
15.72 MB
2020-05-12
Vassal 3.2.17
Trent Garner
Mike Seely
Comments
Fight the opening battles of World War III, from desperate delaying actions by US Armored Cavalry and West German Panzergrenadier forces to determined counterattacks by local ad-hoc armored forces against the might of the Soviet hordes. Strike fast with Soviet Air Assault troops in heliborne ops, securing roadways to allow the massed armor columns of the PACT to sweep westward into Germany. The devastating armed forces of West Germany, the United States, East Germany, and the Soviet Union are at your disposal in your quest to reshape the world and history.
The weight of the tactical decisions rests solely on your shoulders. Can NATO slow the Soviet advance with the armor and infantry they can bring to bear? Or skillfully use Close Air Support and Attack Helicopter units to swing the tide of battle in your favor? Can the PACT slice through into Germany and cross the Rhine river, gateway to the conquest of all of Europe?
Version 1.3
Updated to match the current state of the WaW85 core module. Many improvements and additions!
Version 1.1
The World at War 85: Starter Kit can be found in the World at War 85 Core Rules v2.0
Screen Shots