Module:World At War 85: Storming the Gap
From Vassal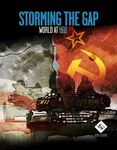 Files and Module Information
Change Log
Version 3.x
This version is incompatible with version 2 of the game. The file structure and internal coding have changed to allow for more flexibility in future additions to the World at War 85 library.
1. NEW: The main vassal file is the "LnLP_World_at_War_85_v3.x.vmod" module. This module includes the counters and code that is common to all games. The vassal extensions (the *.vmdx files) include the units that are specific to a WaW-85 volume. You'll need to download both .vmod and .vmdx files to play a game.
2. NEW: Added more zoom steps to the maps.
Version 2.2
1. Fixed: HQ units no longer show End Ops, Disrupted, or Out of Command markers.
2. Fixed: Smoke markers move to the bottom of the stack, to avoid interfering with other game pieces. The visual density of the smoke was increased slightly as well.
3. Fixed: The reduced M-3 Bradley did not show movement trails.
4. Fixed: Helicopters report changing between Hover and Flight modes.
5. Fixed: Units report being reduced/unreduced.
6. Fixed: Overlay markers correctly flip to opposing sides correctly now.
7. NEW: Changed the Armies selection window to be a free floating window (similar to the markers window).
8. NEW: Indirect Fire units (gray triangle) have a right click option to place a Fire for Effect marker on the board, instead of looking it up in the Markers window.
9. NEW: Smoke markers have a "Lay Smoke" option on the right-click menu. This will copy two more smoke markers to the board to complete the smoke pattern.
10. NEW: For those scenarios that offer pre-registered strikes, a new artillery marker is available.
a. When placed from the Markers window, select "Change Grid Location" from the menu to note the map/hex location.
b. Then, select "Hide Grid Location" from the menu to obscure it. This marker can be placed on the record track as normal.
c. Select the "Fire for Effect" option to reveal the strike as an FFE marker. Scatter options are also available to use. There are markers for HE, Chemical, Smoke, MLRS, ADM, and DPICM rounds as well.
11. NEW: Two buttons have been added to the main toolbar. These provide accuracy and drift results for paratroops. (See rule 16.7.2). Also NEW is a Drop Zone marker, with three different drop zones (1, 2, & 3 hex radius) that can be displayed as an overlay.
12. NEW: Units with the yellow triangle designation have a sub-menu named Paratroop Drop added to their right click menu. This menu accesses the new drop zone buttons. This applies to the West German CDO and INF(Para) units (in StG, SaS), the Russian INF(Spetznaz) (StG) and the Czech INF(Para) units (in SaS).
13. NEW: When using the artillery battalion rules presented in Defense of Frankfurt (rule 4.3), artillery battalions may have counterbattery fire missions. Using the right-click menu, this new label tag ("COUNTERBATTERY") can be turned on for these pieces, to show this special fire mission.
Comments
Special thanks to Trent Garner for his work in developing the original vassal modules.
Game Description
STORMING THE GAP is the first volume in the WORLD AT WAR 85 SERIES of games of fast and furious platoon-level combat. Set in 1985, in an alternate history of World War III, when the Warsaw Pact armies storm across the border of East Germany in a powerful attempt to seize West Germany and the whole of Free Europe.
The WORLD AT WAR 85 system features a unique combat system that involves die rolls by both attacking units and defending units, which keeps both players engaged throughout the game. Die rolls are compared and hits applied quickly, as all the information you need to fight your units is on the counters. No combat results table is necessary. The initiative, formation activation, random turn length, and close air support are all smoothly integrated.
Fight the first battles of World War III, from desperate delaying actions by US Armored Cavalry and West German Panzer grenadiers to fierce local counterattacks by ad-hoc armored companies and battalions; launch lightning strikes by heliborne Soviet Air Assault troops to secure roads for massive armored columns to press into West Germany. Can you skillfully use your Close Air Support and attack helicopter support units to press for the ultimate advantage in each battle?
Twenty different game situations are provided in the full game of STORMING THE GAP, showing you battles that might have been, using the equipment of 1985 at PLATOON and BATTERY level.
Rules of play cover variable turn lengths, random formation activation, point-blank, and long weapon ranges, line of sight, and much, much more. All in a moderate complexity, fast yet flexible game system.
It is all here, and YOU ARE IN COMMAND.
This module contains the maps, units, markers, and select tables needed to play the game. Game scenarios are available in the LnL:Tactical Companion Book, which is available on the LnLP website.
What is the Companion Book? The Companion Books are the same as the Module Rules and Scenario booklets that are available in our games, with the exception we included most of the charts and tables that come within that game. So why release the Companion book? The Companion Books were designed for those gamers who are playing virtually and did not want to purchase the entire game just for the scenarios and tables to play via Vassal or Tabletop Simulator. The Companion Books are NOT complete games but do contain everything a player will need to play via Vassal or Tabletop Simulator. Players who prefer to play virtually can do so without the need to own the board (boxed) edition of the game. The Companion Books also can be used by players playing digitally via our Digital DLC editions via Steam for their Macs or Windows computers.
So if you own or purchase the board games you don't need to purchase the Companion Books. Some board game owners prefer them since they are spiral bound and will lay flat on the table and any typos or known errors found since the printing of the original edition of the board game has been updated. The Companion books can be used with any game printing or game rule edition.
External Links
Social Media
Game Credits & License
Why We Do What We Do: We love playing games, as well as designing and developing them. We give praise and thanks to God for blessing us so we can follow our dreams and passions. We also thank you, our fans, friends, and family for making this possible for us.
This module is solely owned by Lock 'n Load Publishing, who kindly granted permission and advised on its construction. Please do not modify this in any way and repost it or its components. If you find errors, or have suggestions for improvements, please contact Mike Seely, our vassal module maintainer.
Executive Producer: David Heath
Associate Producer: Keith Tracton
Game Design and Development: Keith Tracton
Development Leads: Keith Tracton, Jeff Schulte, Phillip Bolger, Matt Lohse
Development Team: David Heath, Felix Le Rouzés, Nicolas Michon, Dean Morrissey, Iain Tracton, Mike Wheal, Paul Summers Young.
Layout and Graphic Design: Blackwell Hird
Rules Authors: Paul Summers Young, Keith Tracton
Map and Counter Design: Marc von Martial
Formation Card Design: Marc von Martial, Nuno Castilho
Player Aid Card Design: Keith Tracton, David Heath, Jeff Schulte
Editor: Hans Korting
Vassal Modules: Trent Garner / Mike Seely
Quality Assurance: Patrick White
Administration: Ava Marie Heath
Logistics Manager: Darren White
This demo mod is solely owned by Lock n' Load Publishing, who kindly granted permission and advised on its construction.
Please do not modify this in any way and repost it or it's components.
Screen Shots