Module:Yardmaster Express
From Vassal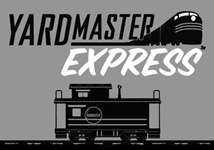 Files
Module Information
| | |
| --- | --- |
| Maintainer | bugggg |
| Contributors | DShortDesign |
Comments
Back the Kickstarter project here today! It ends on 2014-07-25.
Official VASSAL module now available!
Features:
Ability to play SOLO or with 2-5 players -- just right click and add the purple cards to the draw deck for more than 2p
4 Caboose cards included for additional scoring opportunities
Hotkeys (eg ctrl-2 to send cards to player 2 and ctrl-f to flip cards)
Playtested by David Short, the designer of Yardmaster Express!
Help menu with setup and endgame instructions
Counter for number of cards remaining in the draw deck
Anti-cheat reporting
NOTE: After joining a room, wait for the first player to create a new game. Then each of the other players should right click on the top player in the player list and click Synchronize Now to start playing.
Screen Shots
Players