Module:Yggdrasil
From Vassal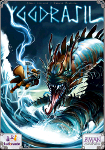 Files and Module Information
Comments
Yggdrasil is a co-operative game in which players are different Gods of the Norse mythology : Odin, Thor, Tyr, Frey, Heimdall and Frejya. Monsters, the wolf Fenrir, the huge serpent Jormungand, the Fire Giant Surt, the Godess of the Dead Hel, the traitor Loki and the cosmic dragon Nidhogg are moving forward in Asgard inescapably and announce the impending coming of chaos and destruction on the world tree Yggdrasil.
Feel free to leave feedback on the module talk page [here]
Module posted with approval from Ludonaute
Version History
0.5.0 - Asgard Expansion (including New Gods, Hel's update power, and Trancing), Deck exclusivity, drawing specific items from bags, updated Text on Frost Giants, world closings, and weapons
0.4.1 - Added Vidar, an option for Player 8
0.4.0 - Cleaner board ( Thanks Haggis ), howto rules correction, changed enemy token keystroke to match others
0.3.1 - Initial Vassal release
Creative Derivative - Thundercats: Dark Eclipse
Thundercats: Dark Eclipse is a creative derivative of Yggdrasil, rethemed into the setting of the classic 1980's "Thundercats" animated TV series. Gameplay is identical to Yggdrasil - this is a visual/thematic reskin only. This module was uploaded with the permission of both Cédric Lefebvre (Ludonaute) and Sargonas.
Thundercats v2.0: Incorporates the 'Asgard' expansion, rethemed into elements of the "Thundercats" and "Silverhawks" animated TV shows.
Screen Shots
Players