Module:Zombies!!!
From Vassal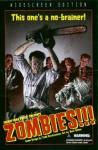 Files
Filename
Filetype
Size
Date
Compatibility
2.2
Zombies 2.2.vmod
Module
4.47 MB
unknown
unknown
Module Information
| | |
| --- | --- |
| Maintainer | Molokai |
| Contributors | Molokai |
Comments
Full combined module, which will eventually contain all expansion packs. Note: no rules included yet. Added more move reporting, added deck counts to map tile decks, one button to display a list for all player hands
This is the module for Zombies!!! by Twilight Creations. I started this module as a project for my brother's usage, and it quickly took on a life of its own. The current module has full functionality with all expansions up to and including Z4, and I am currently working on small additions to smooth gameplay. I also have a Google Code page where I keep my revisions, and you can see the progress of the mod, if you so desire, as well as a changelog.
Also, any and all input on additions to put in the mod (gameplay, etc.), as well as bug reports, can be posted on the release thread in the forums.
Screen Shots
Players
Molokai
Z0M8I3
Netzilla
Maked1
jrbentley
sarfs
Calsir
Clamoroso
UKONGLeader
nitro50010
BrianC
Iawas
Adaman
Cerealkiller
markwals
ionian
Hibiko
RobSan770
kipchak
aapeppin
jewsus
Trampyjoe
Morpheus
JohanS