Module:Zulus on the Ramparts!: The Battle of Rorke's Drift – Second Edition
From Vassal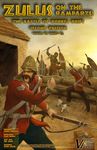 Files
Module Information
| | |
| --- | --- |
| Maintainer | gattsu |
| Contributors | |
Comments
This States of Siege™ game puts you squarely in command of a desperate defense. As events unfold and heroes emerge, can you build up the barricades and fill the breaches before the camp is overrun? As the Zulus relentlessly charge wielding their deadly spears and as British rifles overheat, can you keep cool and make the command decisions necessary to hold your position and repel the onrush of fierce braves until the Relief Column arrives?

Version 1.0 First Version of a Vassal module for "Zulus on the Ramparts!: The Battle of Rorke's Drift – Second Edition"
© 2009 Victory Point Games. All rights reserved. Included by permission of the publisher
Please support VPG!
Screen Shots
Players