VASSAL Overview - What Does It Do?
VASSAL is an engine for building and playing Internet-capable versions of turn-based, human-vs-human games. Players move and manipulate game pieces via the mouse while typing accompanying text. Moves can be recorded into a log file and stepped through one at a time for email play. During live Internet play, all moves and text are automatically broadcast to other players in real time. Combining a live VASSAL session with a third-party Internet voice-chat tool (such as NetMeeting or TeamSpeak) allows you to play with people around the world at very close to face-to-face pace.
What distinguishes VASSAL from other board gaming tools?
Play in real time over a live Internet connection or via email
Switch between email and live play any number of times during the course of a game
100% Java application runs on any platform
Intuitive drag-and-drop and menu-driven interface with many keyboard shortcuts
Auto-report feature reports customizable messages automatically in response to every move
Customizable maps: define the number of map windows, each with its own set of tools. Even define your own icons for the toolbar.
Customizable counters: define a different right-click menu, with nested menus, for each counter. Define your own keyboard shortcuts.
Customizable help files: define your own HTML-based online help pages. Define your own charts and tables for reference during play. Even write your own interactive tutorials.
Advanced counter definitions: rotate to any number of facings, n-sided, combined layers, arbitrary shapes, text labels in customizable fonts and colors, property sheets.
Limited information capability: pieces that hide their identity or turn completely invisible. Map windows that can be hidden from other players.
Import any GIF/JPG/PNG graphics file for your maps and counters
Modular, extensible design with open-source Java code base
VASSAL's interface is the simplest and most intuitive you'll find. To move a piece, simply click and drag. When connected to the server, you'll see your opponent's pieces move on your screen in real time. You can also watch other people's games in progress without participating. Games with any number of players are supported.


VASSAL modules are highly customizable, allowing you to select exactly the features that make sense for your game. For example, you can organize the playing pieces into windows with any combination of tabs, pull-down menus, and scroll lists.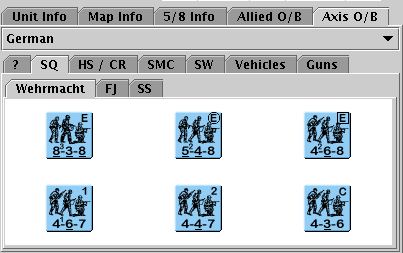 Game Pieces are the most customizable aspect of a VASSAL module. Each piece will have its own right-click menu of actions specific for that piece type with keyboard shortcuts for each entry. Import your own graphics from any source in standard formats. When defining your pieces, you choose from a comprehensive list of traits that can be combined in almost unlimited ways.