Category:Big House Games
From Vassal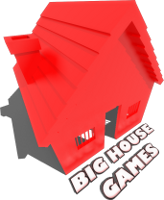 link to Publisher website needed
About this Publisher
I've been making board games for as far back as I can recall. For a long time my brothers and I weren't wealthy enough to own game systems of our own so when we went to friends houses and played on their's we came home and I made multiplayer board game versions of our favorite games. We had a lot of fun. Of course this en-devour spawned from boredom, I was just trying to kill time as my brothers and I were home alone a lot; single parent and all. This was mostly just a clever way of babysitting, for me. So, no, none of my games ever made it beyond testing, I was always finding new inspiration and creating new ones. I had to; my brothers aren't easily entertained you know. Later on we did get a Sega and a Super Nintendo, and board game mock ups became more and more scarce, until one day I just stopped doing them all together.
In 2009 I was incarcerated. If you must know, I punched a cop; he had it coming. While inside I meet with a lot of geeks and fellow game enthusiasts. The first time I approached them they were playing D&D. They had invited me to join. I hadn't played in ages but it was a better alternative than sitting in my rack twiddling my thumbs, so I joined them. Before long I learned that most of the guys had either never played a modern video game or probably never would again. I started making mock ups of my favorites and before long I came up with Blockade witch simply evolved into what it is today. It borrows a single mechanic from an old German board game called Barricade in which landing on a "Block" is the only way to move it and you can place it almost anywhere. I branched off from that and implemented re-spawning from various multiplayer fps games and unique character/Unit abilities. Initially I had been working on a Team Fortress 2 mock up but ditched it in favor of something fresh.
Pages in category "Big House Games"
This category contains only the following page.