Module:Blockade
From Vassal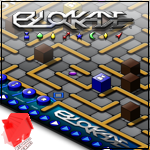 Files
Module Information
| | |
| --- | --- |
| Maintainer | Rusty Hardy |
| Contributors | |
Comments
Blockade is a two to four player; Arena-Combat-Strategy game. While it may echo elements of great classics, it easily maintains a wholly original feel. What sets Blockade apart from other strategy games, is that it isn't what I call "Perfect Strategy." Yes, all the pieces have unique functions, but there is always that element of chance hanging in the balance. All too often, in life, the most brilliant plans are hinged on that one element, that's beyond our control, not to mention the hundreds of others we never even consider. In Blockade, not only must you try and keep track of your opponent's possible moves, for each of their eight pieces, but what you might do with any number you may roll; what you'll do with a five, or a three. The possibilities are vast.
Also, in an ideal Blockade match, there are four players. That's three other living, breathing, ambitious, and often ruthless, contenders, to consider. The strategies in Blockade tend to be much more convoluted in this sense, much more so than in Perfect Strategy games, like Chess. Though regardless of the chance element, Blockade is not a game of chance. Great skill is involved and it is possible to master it.
To become a Blockade master, it is important to not only understand how each unit works, but how units works together, and that is something that you will learn, on your own, over the course of many long battles and humiliating defeats.
On a side note: Although Blockade was not originally designed as a role playing game, it does undoubtedly have a certain, uncanny allure, that seems to invite spontaneous personification. You and your friends may find yourselves anthropomorphising each unit in your force. Creating characters that you will, no doubt, build on, as your Blockade careers progress. As the creator of this game I can't help but see this as a plus. I know a few guys with some pretty funny stories, who could and probably will, someday, write books. I know I'm considering it.
In closing: Blockade is complex but it is also fun. So, please, even though there are plenty of grand opportunities to ruin a good friend's day; try and be civil. What happens on the playing field should stay there. Longstanding grudges over who killed who's Priest, Wizard or Assassin at the worst possible time just aren't worth a friendship; or maybe they are, who am I to say?
Screen Shots
Players