Category:Central Front Series
From Vassal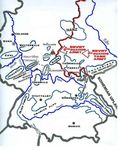 The Central Front series of games includes "Donau Front", "North German Plain", "BAOR", "Fifth Corps", and "Hof Gap". Maps (all in 1:500,000 scale!) from all of the games may be linked and rules exist for a full Campaign game. The games are designed to depict hypothetical Warsaw Pact versus NATO conflict during the first five days of a future war. Four of the five games were published in Strategy & Tactics magazine (Hof Gap was released as a boxed game).
Pages in category "Central Front Series"
This category contains only the following page.