Module:1812!: War on the Great Lakes Frontier
From Vassal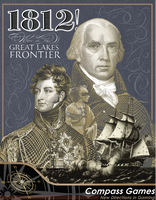 Files and Module Information
Change Log
Version 1.1a - Requires VASSAL Version 3.6.19 or later!
First Uploaded version.
Comments
1812! War on the Great Lakes Frontier, Vassal Module version 1.1a (Aug 2023)
Designer: Ken Repel
Artist: Iván Cáceres
Publisher: Compass Games
Player aids and charts not included in the module at the publisher's request.


Some version 1.1a module RT-Click Auto Functions-
Fort Malden, Fort St. Joseph & Ogdenburg's (3VP) markers can be proiduced by on-board Rt-Click feature;
Road to Sackett Harbor markers can be changed via on-board Rt-Click feature;
Combat Maps can be produced on the map in indicated spaces or used through their Map Window in the modules menu bar;
2 spaces on the map, colored blue and red, are the "Played Card" areas;
must "Mask" cards manually on each players' deck mapboard before "Playing" cards to map board spaces.
Screen Shots
Players