Module:A Most Dangerous Time
From Vassal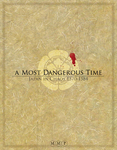 Files
Module Information
Comments
A Most Dangerous Time focuses in on the most dire moment of all Japanese history - 1570-1584. Oda Nobunaga, the most revered figure in Japanese history, fights against all of Japan and the victor will be the ultimate master of all of Japan.
This is the game that made Tetsuya Nakamura famous. As you have seen from MMP's Fire in the Sky and A Victory Lost, Nakamura provides a unique insight into military history. MMP is proud to present what is widely considered to be his finest effort.
Using a unique system, Nakamura provides a simulation of this period that is one of the most profound ever made. Don't miss out on this game, it is one of the great gaming experiences of our hobby!
Official MMP module.
Screen Shots
Players
swampwallaby
rhammond
ScottMayne
KevinRohrer
Noman
MikeO
xrubio
daxelos
SamuraiLord
Tulfa
gerland
rddfxx
Edgar