Module:Age Of Steam
From Vassal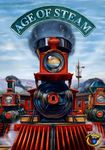 Files
Module Information
| | |
| --- | --- |
| Maintainer | Alham |
| Contributors | Alham |
Comments
You can find a how-to-use video for this module on YouTube.
NOTE: to use the newest features, do NOT use the predefined game setups to create a new game. Instead, set your table with the "color score sheet", "color goods display", "player aid", and map of choice. Also pull the appropriate player mats from the Pieces tray.
v1.71
-Improved accuracy on Shares To Issue calculator.
-Additional scripting to collect income, pay expenses, and do income reduction; must use "color score sheet" and player mats from the Pieces tray.
v1.52
-Simplified many controls (fewer control-buttons; use left/right/up/down arrows or simple key presses instead).
-New player color options, with matching tokens and player mats.
-Income Sheet tokens now track income, engine level, shares issued.
-Net (Income - Expenses) calculated automatically.
-Ownership markers can now indicate track VP value (need to update them manually).
-VP (track and income-shares) calculated automatically.
-Includes a calculator for shares-to-issue; MUST choose player color when joining game. NOTE: issue shares to cover bid+build costs first, then consult the calculator.
-Player count button to update Turn Track; map extensions (anything v1.5 and later) may use that information if needed.
v1.43
This is a significantly modified version of the original module: new graphics, different map (Portugal -- thanks, Vital Lacerda!), additional functionality.
NOT necessarily compatible with extensions made for the original module.
Each of the .vmdx files should be saved in a folder ("AgeOfSteam_v1.43_ext"), in the same location as the base AgeOfSteam_v1.43.vmod file.
How to use: after opening the module, you can create a new game. Use one of the predefined setups in the menu, or create your own layout of boards (you'll generally need to choose the color goods display, color score sheet, the map, and the player area). When a player is joining a game, they must choose a player color. However, this is ONLY relevant for the Secret Blueprints expansion (where everyone has a personal window kept hidden from everyone else); for every other map (so far), just choose "observer". More details are in the help file in the module.
Huge thanks to the designers and artists for permission to release!
-Ted Alspach/Bezier Games: designer/publisher for most of the included maps
-Lajos Brons (BoardGameGeek.com user Lajos): Corsica map; map-drawing graphics
-Kevin McCurdy (BoardGameGeek.com user Kevin in Kansas): game graphics updates, some map redraws
-Chris Phillips (BoardGameGeek.com user TheRocketSurgeon): several map redraws
-Sergio Roscini (BoardGameGeek.com user RoSKoMaNTe): Umbria map
-Richie Turner (BoardGameGeek.com user Iskreemman): some map redraws
1830's Pennysylvania
1867 Georgia Reconstruction
African Diamond Mines
Alabama Railways
Amazon Rainforest
America
Atlantis
Barbados
Bay Area
Beer & Pretzels
California Gold Rush
Central New England (NH and VT)
Corsica print and play
Disco Inferno
Disoriented Express
Essen Spiel 2008
Europe
Four Corners
Golden Spike
Jamaica
Mississippi Steamboats
Northern California
Oklahoma Land Rush
Outer Space
Portugal print and play
Reversteam
Sahara Desert
Secret Blueprints (1, 2, and 3)
Sharing
Soul Train
South Carolina
St. Lucia
Tasmania
Taiwan Cube Factories
Trisland
Umbria
Underground Railroad
v1.0
Age Of Steam 1.0 module comes with 3 maps : - Ireland - France - Scandinavia
Screen Shots
Players
Darcy Burgess
Alham
DerDiplomat
tejoe
azegzao
ReiXou
MedievalBanquet
cwmassey
jll1024
BScheuert
pfglenn
jgische
Ogreking
HazMatt
baub64
daveted
docaction
timf
craniac
HazMatt
mrgreen77
tassonik
lesulm1
redwood
FirestoneIV
onibaloney
ges
Preacher
woundwart
Kevin65
PaireDodue
Schlinker
PontusNalle
blademaster
rockusultimus
snoozefest
Aldebaran
NePhie
Gomez