Module:Agricola, Master of Britain
From Vassal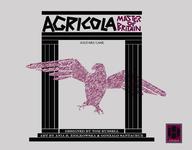 Files
Module Information
| | |
| --- | --- |
| Maintainer | Keraunos281 |
| Contributors | Keraunos281, Alecrespi |
Comments
Tom Russel's game on Roman campaigns in Britain.
Setup guide:
1. Pull # Tan Units from Cups > Hostile Cup, until specified # Tan on board
2. Pull Setup > 'Green Units, Tan Leader', right click and select to send content to Hostile Cup
3. Pull # from Cups > Hostile Cup, until specified # Green on board
4. Pull Setup > 'Green Leader' into Cups > Hostile Cup
5. Draw 4 Tribal Units from Friendly Cup, flip them and assign as Auxiliaries
6. Place Agricola (already on Battle Board) with any Legion
The game can be purchased directly from designer at Hollandspiele website.
V 1.1 changelog
Here you can find a brief list:
- single big board to avoid 3 or more windows opened and overlapped.
- added cup management using icon/arrows to avoid dragging tokens manually
- added stacking zones to "snap" tokens on britain map, tracks tables, legions and tactical box.
- added a sideboard with summary tables (can be zoomed with "mouse over stack" feature) - thanks to Gustavo.
- added rules directly inside the module.
- added a symbolic dice t obetter see result
- automated initial placing of 4 auxilia and 5 tribe tokens on main map.
- automated placing of new tokens directly on map (each token goes directly to its tribal box).
- automated deploy of enemy battle units (from 2 to 13) without having to drag them one by one.
- added a "D8" layer on top of each token so it will be easier to compare attack/defence values.
Screen Shots
Players