Module:Argent: The Consortium
From Vassal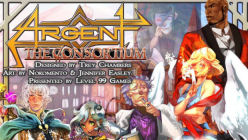 Files
Module Information
| | |
| --- | --- |
| Maintainer | Guinness |
| Contributors | n/a |
Comments
Argent: The Consortium is a thematic game based around succeeding the leadership of a Magical University that involves worker placement mixed with area control and resource allocation elements that forces you to outwit and outplan your opponents with limited knowledge (at the onset) about the victory conditions in play.
Changelog:
v1.03 to v1.06
Fixed missing Create Mark button in the Consortium window.
Fixed some other errors users specifically requested.
v1.02 to v1.03
Peeking is now a single click or Ctrl-P function.
Module no longer tiles images every time it is opened.
MUST READ file now only mentioned the most common problem Alt-Click to select room pieces.
v1.01 to v1.02
Turn Counter omitted Cleanup Phase, now just Round 1-5.
Fixed a bug that stopped Supporter tableau from populating.
Changing Current / Max values for Merit, Int, Wis are all Ctrl-F & Ctrl-G
v1.0 to v1.01
Archmage's Study Graphical Errors: Fixed
Astronomy Token: Fixed (Now free from the binding that affects rooms)
Phases Renamed (to clear up confusion)
Rooms now selected by Alt-Click (instead of Shift-Click, to save awkward double room selection)
Max and Current Int/Wis/Merit now changed by separate options.
Supporter/Vault/Spell cards are drawn hidden, then revealed by player action (to support Hidden Supporters and Adventuring)
2nd Most Voters deleted automatically in 2p startup.
Screen Shots
Players