Module:Aspern-Essling 1809
From Vassal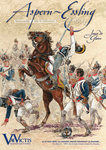 Files
Module Information
| | |
| --- | --- |
| Maintainer | Pierre Bulle |
| Contributors | Mark Benson, Crispy1critter |
Comments
Authorised module by permission from Nicolas Stratigos (Vae Victis)
Changes in Jours de Gloire modules version 1.4
added hex grid with snap-to-grid and hex numbering
prevented other side from moving pieces
added symbolic dice
new tables/charts from Stephen Besty, with permission of series designer M. Bey

Version 2 Beta
The version 2 module available on this page is a working release of bug fixes and new features. See the Montmirail & Vauchamps 1814 page for list of V2 changes and features.
Aspern-Essling 1809 v2 includes specific updates as follows:
Scenarios: Pieces with duplicate names (Reserve Artillery and Frelich) now match the formation.
Scenarios: Artillery pieces are now all top of stack on the battlefield.
Official game box art used for "About Module"

Testing and feedback invited. Contact marktb1961 or discuss on the Vassal Module Support forum.
Screen Shots
Players