Module:Asteroid
From Vassal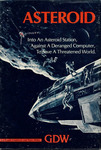 Files
Module Information
Comments
In Asteroid, one player controls a team of adventurers attempting to destroy a runaway mining asteroid on a collision course with Earth; the other player controls the evil computer brain that runs the mining station. The good guys must overcome the station's defenses (including various nasty robots), turn off the computer brain, set the asteroid to self-destruct, and escape before it blows.
Each of the adventurers has unique characteristics, including ranged and melee combat abilities, computer skills, demolition skills, stealthiness, psychic ability, luck and even emotional attachments to other characters.
The computer brain player secretly determines the configuration of the modular boards to form a map of the mining station and deploys robots to prevent the adventurers from shutting it down.
Also available: The Revenge of the Brain! extension that adds new characters, equipment, and options.
Players