Module:Atlanta
From Vassal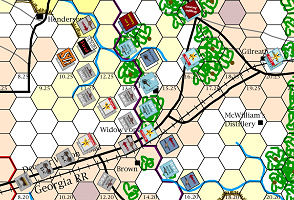 Files
Filename
Filetype
Size
Date
Compatibility
1.0
Atlanta_Ver_1_0.vmod
module
24.11 MB
2020-04-12
3.2.17
Module Information
| | |
| --- | --- |
| Maintainer | Manny |
| Contributors | |
Comments
The Battle of Atlanta - Civil War Brigade System is an unpublished game for The Gamers' Civil War Brigade Series system. The game's development has taken some 25+years in the making. It is designed by John Gilmer. From its inception Keith Beason played a key part in playtesting and research. More recently others have contributed in various ways. Christine Schultz provided much needed graphics expertise for the unit counters while Patrick McCormick helped with helped with historical fact checking.
This module only contains the Historical setup for the July 22, 1864 battle. The smaller action near Decatur is also represented as well if players wish to include that affair.
Setup Notes: Many of the Union units in the breastwork line are placed in their setup hexes though they will need to be positioned in whatever formation and facing the players wish to have them in. All Confederate units and those Union units with the red "wrecked" ovals placed over their stacks will need to be placed within range of their setup hexes as noted in the rules.
Screen Shots
Players