Module:B-17 Queen of the Skies
From Vassal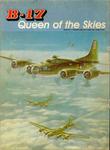 Files and Module Information
Comments
UPDATE: 3-3-23 by: MadCartographer
Version 5.1
-New Graphics
-Integrated B-17, B-24 and Lancaster in 1 module
-Full logs for all 3 versions
-8th and 15th Air Forces variants
-Integrated various BGG User Mods

Thanks to Brent Snoddy for Playtesting and suggestions.
Thanks to Weasel for QA and Playtesting and for making the collage

---
UPDATE: 27 September 2017 - Still looking for a compatible Pacific map.
---
Update: 30 July 2012 (updated ALL charts/stuff due to errors. This should be all the "fixes."
---
1. Version 3.9 is ready for RE-download. Look for the DATE on certain files: these have been updated.
2. Added a Night Raid map. Hope you like. :)
---
---
I fixed the issue with German fighters (on map board) being deleted and unable to respawn.
---
Version 3.5 for Vassal 3.2+
---
1. Added a Random Target Selector trait with 101 targets to choose from. The updated map board reflects this. Check your board. If not, re-download 3.9 to get it up to date. Why 101? Ever see the movie Spinal Tap? 'This one goes to 101.'
2. Added a Pilot Background/POW Escape Chart (don't laugh)
3. Added NEW Fighter Resistance Boards (via B-17 community).
4. Added 100+ map targets.
5. Added B-24 extension.
---
Version 3.2 for Vassal 3.2+
---
1. Added Lancaster variant module. B-24 extension is still ongoing but should be ready by the next full moon.
---
Version 3.2 for Vassal 3.2+ (The following List is a compilation from V1 - V3)
---
1. This update is a BIGGIE! Out with the old; in with the NEW. Mainly the Mission Chart. Same, but different. It incorporates up to 12 zones! Plus! The Bomb Drop % section (top right) is right-clickable. Toggle between on/off.
2. Fixed the 180 degree flip issue on the German fighter counters.
3. Added DOW (Died of Wounds) marker in right-click menu.
4. Included M-1 board as part of the main B-17 mapboard. Now you can easily access the Defensive Fire "To-Hit" chart. (see the 2nd pic in gallery)
---
Version 3.0 for Vassal 3.2+ (The following List is a compilation from V1 - V3)
---
1. Added NEW Mission Charts (Missions into Germany's Industrial Heartland) from AH The General (1986).
2. Updated, expanded, and cleaned up the MAIN Strategic Board. (Additional graphic icons are displayed on map representing new targets per AH material)
3. Added Memphis Belle Mission Chart and biography (menu tab). Now you can retrace the EXACT 25 missions.
4. Increased Fighter Zone Coverage Chart from 4 to 8 to compensate for the new Italian Campaign Missions.
5. Removed dual Mission Composite Chart due to Vassal issues. Just save independently.
6. Added LAS (Lost at Sea) marker.
7. Added Pip for use in B-17 Name column. This is in lieu of transcribing the bomber name 25x. Just a convenience.
8. Added NEW map of the Italian campaign from AH The General (1986) issue.
9. Added NEW menu tab for NEW B-17G data.
10. Added NEW MIA, KIA, and WIA composite markers, also included a POW as part of the menu selection.
11. Added a flip trait for German aircraft counters.
12. Added arbitrary rotation to B-17 marker.
13. Added all known errata to ALL colored data charts.

B-17 Queen of the Skies v0.98*
Last Update: 26 Aug 2006
(* All my initial releases start at v0.95 as an ode to Murphy's Law)
---
Version 0.98 for Vassal 2.7 (& higher?)
---
1. Added 25 Mission Charts (you can now fly 25 missions without erasing a single mission chart!)
2. Changed counter behavior on Crew Placement board.
3. Changed procedures on Composite Mission Chart.
4. Changed Strategic Map reporting (if you're using the position marker's key commands).
---
Version 0.97
---
1. Upgraded dice displays.
---
Version 0.96
---
1. Fixed typo.
---
Version 0.95
---
Initial Release.
Screen Shots
Players
E
Athenashooter
ArmedMedic
DerDiplomat
Firepigeon70
Clandaith
JimGrognard
Pabu
sabreman1966
PerFischer
JeffGeorge
boon414
hunggokyan
Deroghann
Vialli
malize
LordJesse
MCharves
dingers4u
Wheatchex
hackett
crimedog66
Magnuzk
Temperance
Genz
rickbill
Jasta6
redrichard
Battlehardened
patrik702
JonasK
mortificator
Salar
drwiggles
ruppt
oiram64
Viking4
myohodl55
myohodl55
slamis
fleanbilly
jlr1516
bdgza
porkbelly
Craig68x
Resisti
wadereckman
tenthreeleader
teufelhunde
RedFalcon
Bruno Passacantando