Module:Baltic Gap
From Vassal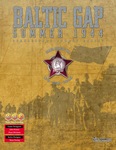 Files and Module Information
Comments
v5.12 Fixed Combat Markers bug, so that they always display above counter stacks. Added keyboard shortcuts for dice roll functions. Updated keyboard shortcuts summary sheet, moved it under Help menu as pdf. On main map, changed piece select highlight to red border. Back-end revamping of Prototypes for OCS markers.
v5.11 Minor corrections to scenario setups: Soviet organic trucks set up as Full.
v5.10 Incorporated Sub-menus to better organize drop-down menus for land/air/sea units. Added Combat Markers to facilitate PBEM. Streamlined text option of displaying step losses. Added reference sheet of commonly used keyboard shortcuts.
v5.09 Minor back end updates to eliminate error messages.
v5.08 Minor adjustments for v3.6.x compatibility without generating error messages.
v5.07 Upgraded to v3.5 to enable Map Flare functionality. Decreased size of Mask graphics to obscure less of the counter area for the friendly player. Upgraded Inactive aircraft marker to be more visible. Added Inventory-all button on top of existing Inventory-Map button.
v5.06 Added Fog of War feature, so that players can choose to Mask all of their counters as desired (except for Exploit and Out of Supply markers). Also revamped the Order of Arrival displays, and cosmetic changes to Soviet airbase and Fueled markers. Ongoing game vsav files from v5.05 will NOT be compatible with this version.
v5.05 Corrected the Soviet Corps markers, so that they reset correctly from their Fueled sides when applying the global key command. Added the new Interdiction markers as an option. Added incremental fill levels to organic trucks.
v5.04 Minor updates to the unit masking function to make it identical to other OCS modules.
v5.03 represents a long overdue non-FoW update of Baltic Gap, standardized to latest OCS module features and Living Rules by John Kisner, superseding the Sep 2019 OCS errata document. Game specific features include a POP Calculator function courtesy of Jeff Coyle. Each POP location contains an ownership marker that can be selected by Alt-left mouse click. Then right mouse click for pull-down menu to denote change of possession between Axis and Soviets. The POP calculator button at the top right menu bar then sums up the total Soviet POP points when needed. Another menu button nearby temporarily clears any overlying units so those ownership markers can be selected.
George Hayward developed all of the Fog of War (FOW) enabled OCS modules. Sadly, he passed away in June of 2013. I (Bill Gustafson) have uploaded the most current FOW OCS modules from his now defunct web page, and have removed references to that web page and his email address. If you have more recently updated modules please let me know, and I will upload them. If you find bugs with the existing modules you can also let me know, and I can try to fix them. I do not have copies of the previous versions of the modules, so if for some reason you want those to be centrally available, please email me and tell me where to get them.
Latest Versions of all FOW OCS Modules will be put in a centralized web location at some point in the near future.
Instructions on how to use all 4.0 modules can be found by pressing the "Module Use Instructions" button in the module. Failure to read the instructions will lead to frustration.
rc2 fixes a problem where a player couldn't control his own pieces in an on-map box
4.26 Custom code recompiled for Vassal versions 3.2.14+
With permission of MMP - Submit problems to hanskishel@gmail.com for all non FOW modules
Screen Shots
Players
Bill Gustafson
Jeff Coyle
akulkis00
BugDany
eclecticdog
fatgreta
Ulv Miller
kishel
Rick Galli
AmusingTitle