Module:Barren Victory
From Vassal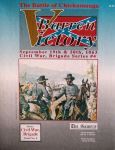 Files
Module Information
| | |
| --- | --- |
| Maintainer | Larry86 |
| Contributors | |
Comments
This is my third CWBS module and contains all the features used in my previous modules.
I have updated the map to incorporate all known errata. The two entry points in the northwest corner of the map now are shown as Entry Area G (errata item 1) and the Casualty and Ammo boxes now go from 0 to 9 (instead of 1 to 10 - reference errata item 2).
Unit Inventory buttons now display the units in a organized way (like the loss charts).
I have included two whole sets of counters for the game. The primary set (New Pieces) updates the game pieces to a style more similar with the later releases of the Civil War Brigade Series games. The second set (Original Pieces) gives you the games pieces that came with the original game (not as colorful, but some purist out there may like them).
Marker counters are also available in both an updated style and original style. When placing a marker (when you right click a counter and get the menu option) you get the updated style from the short cut on the menu (example: ATL M - for a updated style morale marker) or you can instead select the original style marker by using the same short cut with the SHIFT key held down (example: SHIFT ATL M - for original style morale marker). The menu options which place markers available in both styles are identified with an *.
See the pictures below to see the screen shots of the game with both styles of counters.
The game board has a box for both wounded and killed leaders - so I created a short cut for leaders which will send them to either of boxes. You will have to sort them within the box on your own.
Enjoy
Screen Shots
Players
Larry86
Chris Anthony
Gary Krockover