Module:Battle for Galicia, 1914
From Vassal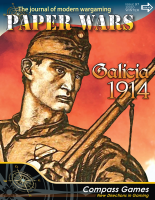 Files
Module Information
| | |
| --- | --- |
| Maintainer | Tim Porter |
| Contributors | |
Comments
1) Counter errata is included.
2) A Read Me PDF file on how to use the module is on the module Help menu. A precis of that info is listed below in 3).
3) There are a number of shortcuts to speed play that are available via the standard method of the RMB (right hand mouse-button) menus on units, and markers. Experienced Vassal users will be able to jump right into the module with little delay. The important things to understand are detailed in the guide below and presented in more detail in the included PDF file. The critical points are centered around the unique mechanics used by the game. Instead of stacks of marker counters this module uses graphic overlays to detail different conditions.
Combat Effectiveness reduction and recovery: Combat Effectiveness (CE) are incremental losses within each step of a unit. These are represented by CE -1 and CE -2 overlays on a units counter. Once the threshold for a step` reduction or elimination has been reached the overlay changes. The player must then flip or eliminate the unit. Note: that Ersatz units are eliminated after the second CE reduction.
Hiding units: The players can hide their units from the other player. Such hidden units will be shown with a large question mark symbol. Players can Peek at their own units while maintaining the hidden status. The players are responsible for showing and hiding their units as required during combat etc.
Victory Points and "Capture" points: Each Town location has a control icon that can be changed to denote the current control. Right Mouse click on the flag to Change Control. Players must manually alter the VP totals.
Supply and Attrition: The players can adjust units Supply states and any resulting CE changes. The players can change or reset the Supply Status of a unit using the RMB menu.
Screen Shots
Players