Module:Battle for Moscow II
From Vassal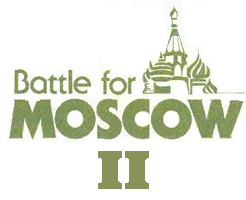 Files
Module Information
| | |
| --- | --- |
| Maintainer | Davejm |
| Contributors | |
Change Log
Comments
The Combat Demo vlog shows several combats and how the various markers can be used. These markers need not be used all the time but can be very useful especially in PBEM to remove any ambiguity which might otherwise have occurred. To use open B4M2, select load saved game, load the vlog from where you saved it after downloading it and then use the step forward icon, the arrow 2nd from the left on the toolbar. At any time the Charts, Turn Track, or Aid can be viewed.
Version 1 includes more features to enhance both live play and PBEM. These features include on the right click dropdown menu the ability to create die and combat results. Buttons to remove with one click attack markers, die, combat results and combat odds markers. There is an example set up and an Aid button containing some of the rules in separate tabs for quick and easy reference as well as some information on how to use the module.
Battle for Moscow II is not exactly the classic introductory game from 1986, but a lower-complexity wargame created to stairstep players up to the full series of Frank Chadwick's ETO games. B4M2 is the first in a new series of smaller campaigns using its own "hybrid" Battles for Europe game engine.
Board Games Geek https://boardgamegeek.com/boardgame/197297/battle-moscow-ii
For more information see https://www.watchword.biz/post/free-battle-for-moscow-ii-beta-kit
This module is an adaptation of the module which is included in the free beta kit and is posted here with the permission of Gerald Johnson.
Read the notes for some of the new features.
Rules included in the module.
Screen Shots
Players