Module:Battle for Moscow II
From Vassal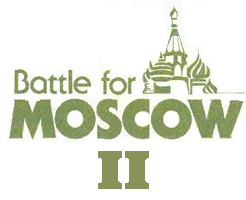 Files
Filename
Filetype
Size
Date
Compatibility
0.5
BfM2v0.5 beta.vmod
module
72.35 MB
22-06-12
3.5.8
Module Information
| | |
| --- | --- |
| Maintainer | Davejm |
| Contributors | |
Change Log
Comments
Battle for Moscow II is not exactly the classic introductory game from 1986, but a lower-complexity wargame created to stairstep players up to the full series of Frank Chadwick's ETO games. B4M2 is the first in a new series of smaller campaigns using its own "hybrid" Battles for Europe game engine.
For more information see https://www.watchword.biz/post/free-battle-for-moscow-ii-beta-kit
This module is an adaptation of the module which is included in the free beta kit and is posted here with the permission of Gerald Johnson.
Read the notes for some of the new features.
Rules included in the module.
Screen Shots
Players