Module:Beda Fomm
From Vassal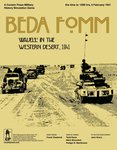 Files
Filename
Filetype
Size
Date
Compatibility
1.3
BedaFomm_v1-3.vmod
Module
22.01 MB
2010-08-26
3.1.14
Module Information
| | |
| --- | --- |
| Maintainer | Joel Toppen |
| Contributors | Joel Toppen |
Comments
From Consim Press web site:
The Situation On December 9th, 1940, the British Western Desert Force launched their first offensive of World War Two, catching the Italian 10th Army completely off guard. Although greatly outnumbered, the British dominated by outmaneuvering the Italians with their superior armored vehicles. In the battles of Sidi Barani, Bardia, Tobruk, and Mechili, the Italian 10th Army had been soundly defeated but remained intact to defend the gates of Tripoli.
On this, the 58th day of the offensive, the remaining operational tanks of 7th British Armoured Division and a small advanced detachment of men, guns, and armored cars are attempting to block the last escape route for the Italians.
The Italians, yet unaware of the fast approaching Western Desert blocking force, will soon find themselves desperately racing against time to break through near the small village of Beda Fomm and escape into Tripolitania before it's too late.
The time is 1200 hrs, 5 February 1941
The complete destruction of the remnants of the Italian 10th Army hangs in the balance.
Screen Shots
Players
Joel Toppen
xrubio
Craig68x
Monte