Module:Blood & Steel
From Vassal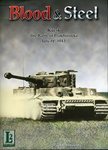 Files
| Filename | Filetype | Size | Date | Compatibility |
| --- | --- | --- | --- | --- |
VASSAL is not allowed to host this file or provide external links to the module in accordance to the wishes of the present Copyright Holder(s)
Module Information
| | |
| --- | --- |
| Maintainer | NONE |
| Contributors | rickbill |
Comments
IAW the wishes of L2 Design Group's wishes, I have removed the BnS vassal module.
Here is the letter stating their policy.
RB
---
Hi Rick,
L2 Design Group does not allow it's games to be distributed in any form of media including computer media without permission.
And, we do not support any form of computer program other than ADC2 at this moment in time. That may change, but for now, this is our stand on VASSAL.
Sorry for any inconvenience, but the answer, in a nutshell, is no.
...
Best regards,
Art
---

This is why I no longer support L2. As the wargame industry continues to boom there are plenty of other contenders for my time, and I've found that a complete lack of interest in facilitating the customer's ability to play any particular company's game to be a complete deal-breaker for my gaming dollars.
--guy
If you would like to see the module of this game made available please contact the Copyright Holder(s) to change their policy
Screen Shots
Players