Module:Brotherhood & Unity
From Vassal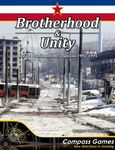 Files
Filename
Filetype
Size
Date
Compatibility
1.0
BU.1.2.vmod
Module
29.4 MB
vassal 3.5.0
BU.1.0.vmod
Module
29.41 MB
vassal 3.4.6
Module Information
| | |
| --- | --- |
| Maintainer | César Moreno |
| Contributors | Tomislav Cipcic |
Comments
Changes in version 1.2:
Flare (ALT+click).
Red text for Key Spaces when hovering over with the mouse.
No control markers automaticalle added unless really needed.
There is a space to place permanent effect events.

Designers: Tomislav Cipcic
Art: Ilya Kudriashov, Tomislav Cipcic
Description: Brotherhood & Unity is a 2-3 player card driven wargame which depicts the war in Bosnia and Herzegovina from 1992-1995 ("Bosnian War"). The game shows all of the major events: from the siege of Sarajevo (shown in separate, detailed map), to the ferocious battles for the Posavina corridore, and desperate defence of the Bosniak enclaves. Main features are: Point-To-Point movement system, play driven by Strategy Cards, quick combat resolution (no CRT), streamlined rules and fast gameplay. Interaction between warring sides (Bosniaks, Serbs and Croats) creates an intensive and exciting gameplay experience.
Language: This is a multilingual vassal module. Setting vassal language preferences to Spanish will show text messages in that language.
Este módulo vassal se puede usar en castellano. Selecciona el idioma en "preferencias" de vassal para mostrar los mensajes en español (El material del juego, como tablero y cartas, no están traducidos).
Screen Shots
Players