Module:Bullet♥︎
From Vassal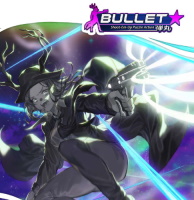 Files
Filename
Filetype
Size
Date
Compatibility
1.0
Bullet_1.0.vmod
module
33.48 MB
2021-10-19
3.5.8
Module Information
| | |
| --- | --- |
| Maintainer | gattsu |
| Contributors | |
Comments
In Bullet♥︎, players take on the role of heroines in a far-flung future Earth and use their incredible powers to defend the Earth from evil — as well as from one another! Each heroine's powers manifest in a different form, with players controlling sound, paper, technology, gravity, triangles, and more!
Version 1.0 This is the first version of a Unofficial Fan Made Vassal module for the Game "Bullet♥︎", "Bullet⭐" and "Bullet: Orange". Currently this Module only supports Solo Play. If there is enough interest in a Multiplayer Version I will integrate it.
© 2021 Level 99 Games. All rights reserved. Included by permission of the publisher.
Screen Shots
Players