Module:Burgle Bros.
From Vassal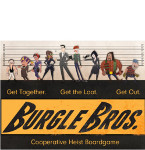 Files
Module Information
| | |
| --- | --- |
| Maintainer | Starfish |
| Contributors | |
Comments
Posted with permission from the creator, Tim Fowers. Thanks Tim!
Burgle Bros. is a cooperative game for 1-­4 players. Players are unique members of a crew trying to pull off a robbery of a highly secure building — without getting caught. The building has three floors (4x4 tiles), each with its own safe to crack. Players start on the first floor and have to escape to their helicopter waiting on the roof.
Players each have three stealth tokens. Whenever they are on the same tile with a guard, they lose one. If any player is caught without a stealth token, the game is over. If players can open all three safes, and escape through the stairs to the roof they win.
This version does support automatic tile placement, see Tile Builder Map for instructions. If you come across any bugs or have any suggestions for enhancements, please let me know! I have posted a short video to help you with initial setup of the module. You can find the video here..
Screen Shots
Players