Module:Campaign Commander Volume I: Roads to Stalingrad
From Vassal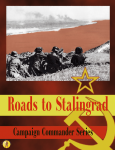 Files
Module Information
| | |
| --- | --- |
| Maintainer | Judd Vance |
| Contributors | |
Comments
1.04 Features:
You can roll a die in the Battle Board window.
The annoying movement trails on the Battle Board disappear when you roll the die.
The number of cards in the draw deck are now printed on the deck itself.

1.03 Features:
RPs do not stack with units (no more accidentally dragging them around)
Right-click on an RP and spend it for supply. The RP marker is automatically exchanged with Operations Marker and your supply track marker moves to "6" on the track.
Right-click on the supply marker and select the option you want to take. The costs are listed in the options and the track moves automatically. When "Winter Arrives" card is played, Axis operational costs increase.
The "Axis Replacements" on every-other turn are automatically tracked by the module.
On the Battle Map, the green "target" marker can be placed on the units directly without sticking.
Right-click options on the units are cleaned up.
The mechanics for playing chits are vastly improved.
A button was added so you can see how many cards are in each player's hand.
Soviet "Field Fortifications" combat chit can be partially slid underneath a combat unit on the Battle Board.
When a card is discarded for supply, that player's RP is automatically generated in the Sea of Azov.
When supply event cards are played, the correct number of RPs are placed in the Sea of Azov.
When you play the "Search your deck"/"Supply" card, you select the option. If you select the search option, your search deck is automatically sent to your "Search Deck" window.
Icon menubar was cleaned up.
Screen Shots
Players