Module:Carcassonne
From Vassal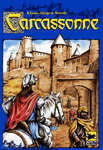 Files and Module Information
Comments
Carcassonne-3.0.2: Outdated custom code updated (thank you Joel Uckelman!) so module can still work with VASSAL 3.6+, badly formed BeanShell updated to work in VASSAL 3.4+ (older versions of VASSAL ignored extraneous $-signs in BeanShell, but newer versions do not).
 Note that this update has *not* been thoroughly tested (it's huge!), but I (jrwatts) am willing to fix any further bugs found unless Corwyn (or anyone else, for that matter) decides he wants to take over again.  I do not intend to expand the module any further, however.

Carc301.Docs.txt: Addendum to Doc file for Carcassonne-3.0.0 vmod, below
( full version also included IN module, as 'Module Notes' helpfile )

Carcassonne-3.0.1: Added support for new mini-expansions, released since v 3.0.0,
 plus minor cosmetic changes

Carc300.Docs.txt: Doc file for Carcassonne-3.0.0 vmod ( also included IN module, as 'Module Notes' helpfile )
Carcassonne-3.0.0: Update/complete rewrite of 2.0.5 module, to use many new VASSAL 3.2+ features (virtual keynames, in particular)
Also includes support for ALL current official expansion sets,
as well as many of the fan expansions available from CarcassonneCentral.com (the Oceans, the Forests, etc)
See the included 'Module Notes' help file, for a complete listing, and details on the other features added.
Carcassonne Corrected 2.0.2: Adds the ability to rotate 180 degrees by pressing ctrl-; or through the context menu in order to speed up gameplay. WARNING: MAY BE BUGGY.
Carcasonne Corrected:
The Carcasonne Corrected VMOD is a corrected version of the Carcasonne-2.0 module listed above. This version has no infinite loops, along with a reworked Jail window for use with the Tower expansion. It features 8 working expansions, along with the base game. Kudos to the creators of the original module; 95% of the work is theirs.
Carcasonne Simple:
Simplified programming
Carcassonne is a popular German game created by Klaus-Jürgen Wrede and published by Hans im Glück Verlag.
Usage of this module implies that you own a hard copy of the game.
If you are interested in announcements about new or updated Carcassonne modules subscribe to the announcement mailing list here http://www.freelists.org/list/carcassonne-vassal.
Version History
1.2 - Basic Edition
2.0 - Includes Expansions
2.0 - Infinite loop correction
2.0.2 - Adds 180 degree rotation
2.0.3 - Fixes 180 rotation
2.0.4 - Adds optional player hands for draw-3 variant
2.0.5 - Fix for Black and Yellow player hands
Screen Shots
Players
Greg O
Sultan
alfonso
Badger
ColtsFan76
Damien
Pcktkite
Grey1fox11
jpat
Marael
freedhom
Celticid
MichaelHovan
lukelearbomb
alaskaspi
PaulRein
jrbentley
striiker
randomlife
Brea
nbridge25
fleanbilly
AlejandroFarnesio
aidendouglass
warkrismagic
GJK
aapeppin
Lugosi84
utl94