Module:Case Blue / Guderian's Blitzkrieg II
From Vassal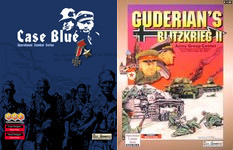 Files
Module Information
| | |
| --- | --- |
| Maintainer | Wig Graves, Herman Wu |
| Contributors | bennyb, george973, Bill Gustafson, Jeff Coyle, James B. Byrne, Myk Deans, Dean Essig |
Comments
6.16 Fixed Combat Markers bug, so that they always display above counter stacks. Added keyboard shortcuts for dice roll functions. Updated keyboard shortcuts summary sheet, moved it under Help menu as pdf. On main map, changed piece select highlight to red border. Back-end revamping of Prototypes for OCS markers.
6.15 Upgraded counter graphics; graphics files courtesy of Dean Essig. For those wishing to upgrade vsav files of ongoing games: (1) Counter images will disappear when you first open the vsav file with newest Vassal module version, along with accompanying 'Bad Data in Module' error messages. This is to be expected. (2) Execute Counter Refresh under Tools menu. VERY IMPORTANT: check the (3rd) box labeled 'Use names to match modified Layer traits?' before you proceed with Refresh. Otherwise, all upgraded counters will revert to their base layer (move mode flip to combat mode, air step loss flip back to full strength, transport points all reverting back to level 1).
6.14 Incorporated Sub-menus to better organize drop-down menus for land/air units. Added Combat Markers to facilitate PBEM. Streamlined text option for displaying step losses. Added reference sheet of commonly used keyboard shortcuts.
6.13 Fixed a bug involving the Axis interdiction marker, so that it can now be removed via global key command.
6.12 Reorganized folders to facilitate access to generic counters for each side, such as transports, breakdown regiments, etc.
6.11 Fixed a bug to enable Soviet multi-step divisions to display and adjust step loss notations as label.
6.10 Minor adjustments to ensure v3.6.x compatibility without generating error messages.
6.09 Decreased size of Mask graphics to obscure less of the counter area for the friendly player.
6.08 Updated Soviet Supply Table. Also updated to v3.5.6 to enable Map Flare functionality.
6.07 Updated Sequence of Play turn counter. Playback of logfiles from 6.06 are problematic. Should have no effect on saved games.
6.06 Added Sequence of Play turn counter. Should be compatible with any game that can be opened with v6.05.
6.05 Added Fog of War functionality. Players can now Mask of their pieces as desired, except Exploit and Out of Supply markers. Ongoing game vsav files from v6.04 should be compatible via Counter Refresh function if using v3.3.2 (but will get an error message if using v3.4.x). Also a cosmetic change to Soviet airbase and Fueled counters.
6.04 Continuation of fixing the bug previously described in v6.02. German Motorized Divs were previously overlooked but should now be able to reset from Fueled Sides. Also added another version of 'new' setup, so users can select which blank mapsets to open for creating their own scenarios.
6.03 Updated the Case Blue map to reflect the following addition to game rule 1.1g: √ Treat these hexsides as Prohibited (sea line): F25.23/26.23, F26.23/27.24, F33.18/34.17, F8.16/8.17.
6.02 Fixed a bug involving Axis MUF markers not being able to reset from Fueled sides.
6.01 Added a Map Overview window.
6.0 This version is a ground-up rebuild, using recycled and resized maps and counters from v5.0. As such, games started in previous versions will not work on this module. For a summary of custom module features, click the READ ME button near the top right. Also new are Trainbusting/Interdiction Zones that can be toggled on/off. For Case Blue, 2 training scenarios, 2 smaller scenarios, and 7 larger scenarios are included. For GBII, all 7 campaign scenarios are included, as well as Chuck Soukup's variant Moscow Offensive scenario.
5.10 This file contains new, corrected, artwork from Dean Essig. Also contains configurable rail head markers that can be highlighted on the maps. Note that the grids for the new maps are slightly different than the old one, which will cause counters on saved games from previous versions to be off-center. This will correct itself as you move the counter.
HQ Extension A module extension created by Vincent Francois to additional HQ, Front, and Boundary markers. This only works with the non-FoW modules (Versions 5.02 and above). It also includes the setup for GBII 7.2 Operation TyphoonCampaign Start II15 Nov 41—The Final Lurch.
5.04 File contains updated Axis and Russian Charts
5.03 File contains a few clean-ups and minor edits.

All 5.x These versions have all the custom java logic removed, and are consistent with other "non-FoW" OCS modules. Please note that games started in previous versions will not load in those versions.
4.25 & 4.26
George Hayward developed all of the Fog of War (FOW) enabled OCS modules. Sadly, he passed away in June of 2013. I (Bill Gustafson) have uploaded the most current FOW OCS modules from his now defunct web page, and have removed references to that web page and his email address. If you have more recently updated modules please let me know, and I will upload them. If you find bugs with the existing modules you can also let me know, and I can try to fix them. I do not have copies of the previous versions of the modules, so if for some reason you want those to be centrally available, please email me and tell me where to get them.
Instructions on how to use all 4.0 modules can be found by pressing the "Module Use Instructions" button in the module. Failure to read the instructions will lead to frustration.
4.26 Custom code recompiled for Vassal versions 3.2.14+

4.1
4.1 rc2 released to fix a problem where in all scenarios there was an extra 4 sp in every supply dump!!!
4.1 rc3 released to fix all the scenario problems (no step loss markers, missing units etc)
4.1 rc4 released to fix a problem where a player couldn't control his own pieces in an on-map box
Screen Shots
Players
bennyb
jimcot
robarrieta
rockydadog
Deno
crward
jwels
Ricky Gray
StefanoCook
Alby
supersolid
ftarzanin
BugDany
fgbelmon
KeithW
pareja
pzlehr
daxelos
Jason B
eclecticdog
Donpaulo
Treespider
Ulv Miller
AmusingTitle