Module:Charlemagne, Master of Europe
From Vassal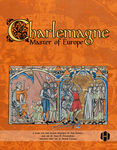 Files
Module Information
| | |
| --- | --- |
| Maintainer | Keraunos281 |
| Contributors | Keraunos281 |
Comments
Tom Russel's game on Charlemagne's reign.
This module is more open, compared to Agricola, Master of Britain. All standard units are available in the setup tab, however, players may freely add/replace units in the counter mix with any available in the 'pieces' section.
The game can be purchased directly from designer at Hollandspiele website.
Screen Shots
Players