Module:Chronicles of Frost
From Vassal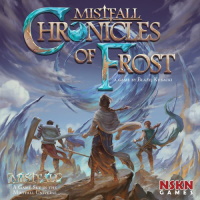 Files
Module Information
Comments
Chronicles of Frost is a deck-building adventure game set in Æstemyr, a dark fantasy universe rich in its own lore, shared by Mistfall, Heart of the Mists and Shadowscape.
Start with two unique quests and a small deck, and improve your character by gaining new ability cards, items and allies. Unlock each card's more powerful effect by using skill tokens or by exerting your character to push ever further on your way to becoming a legend. Face ruthless enemies and reap the rewards of your victories. Explore and build the world, creating a new map every time you play, and use the special abilities of locations to your benefit. Manage your deck by retiring cards into your personal chronicle, where they will yield more fame at the end of the game.
Version 2.0
Added the fan-made Mistwalkers Expansion done by Joe Klipfel BGG
Fixed several Base Game Images
Redone the UI Interface

Version 1.0
This is the first version of a fan made Vassal module for "Chronicles of Frost" plus the first Expansion All that Burns. Most of the Setup is automated for Standard, Solo and Adventure Mode. Currently this module is only playable Solitaire but I will include a Multiplayer Version if there is enough interest.
© 2018 NSKN Games. All rights reserved. Included by permission of the publisher.
Please support NSKN Games (now Boards & Dice)!
Screen Shots
Players