Module:Clash of Monarchs
From Vassal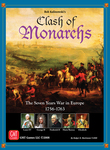 Files
Filename
Filetype
Size
Date
Compatibility
Developer
Other Contributors
1.3.1
CoM_1.31.vmod
Module
82.26 MB
2020-21-10
3.2.2+
unknown
Toadkillerdog,Joel Toppen,Dulgin
1.3
CoM_1.3.vmod
Module
79.27 MB
xxxx-xx-xx
3.0+
unknown
Toadkillerdog,Joel Toppen
1.2
CoM_1.2.vmod
Module
32.32 MB
xxxx-xx-xx
3.0+
unknown
Toadkillerdog,Joel Toppen
Comments
Module also available at GMT Games
Game Design: Bob Kalinowski
Game Development: Chris Janiec
Art Director, Packaging: Rodger B. MacGowan
Counter Art: Mark Simonitch
Map and Player Mats: Mark Mahaffey
Rules Layout: Neil Randall
Production Coordination: Tony Curtis
Producers: Tony Curtis, Rodger MacGowan, Andy Lewis, Gene Billingsley, Mark Simonitch
VASSAL Module by Joel Toppen
Hopefully, you'll be able to find interesting tidbits here for your Vassal experience.
---
Update v1.3.1
Redesign the Play Aids Menu, now Play Aids zoomable.
Hint: Savegames and Logs from 1.3 can be used in 1.3.1. No update needed.

QUICK START
1. Right-click on pieces to see special functions.
2. Many Event Cards have right-click functions which will create markers and/or units (markers appear on Turn marker).
3. Locations which produce Thalers have a small, color-coded round piece which is always on the bottom of the stack in that location. To change control, hold the shift-key and left-click on the dot. Then use the Ctrl-] or right-click functions to change control.
4. The "Thalers" button on the toolbar tracks the Thaler pieces (above) and makes income much easier.
5. The "SP Inventory" button tracks units on the maps to make army size calculation much easier.
6. Each playmat has a draw pile for leaders (red box when empty). Right-click on this draw pile to select a specific leader. If you choose the "Send to force pool" right-click function on a leader, that leader will NOT automatically be deposited in this box. (The draw piles for leaders was a last-minute change in the module.)
7. Tactical chits should be "held" in a player's "hand" as the playmat is NOT a private window.
KNOWN ISSUES WITH THE MODULE (V. 1.0)
Zoom in and out hot-keys should be F11 and F12 respectively. Unfortunately F12 triggers the select-zoom feature.
Several leaders in the setups should be flipped to show that they do not control light troops.
Wider War TAC chits should be added to the draw cups in the 1759 setup.
The Post-Halley Turn order should be in effect in 1759 setup.
The army size markers for Saxony, Sweden, and Denmark are not included in the module. Actually this is an intentional oversight as version 1.0 does not support the optional fog-of-war mechanic. But see the "In The Works" section.
French Event cards seem to be lacking their right-click "Play as Event" option which creates pieces/markers.
IN THE WORKS
I plan to update the module in a few weeks. The bugs listed in the KNOWN ISSUES WITH THE MODULE (V. 1.0) (above) will be resolved. In addition I plan to include a fog-of-war mechanism so that players can use the optional fog-of-war rules.
Screen Shots
Players
jeb123
Toadkillerdog
MadSeason
Scott Mayne
IrishBouzouki
Joel Toppen
collector
leeforester
rstolins
StefanoCuccurullo
Noman
dirubin
VonBrunt
MarkMcG
xrubio
rhammond
Noman
luca67
daxelos
Pierre Miranda
nwright