Module:Codex: Card-Time Strategy
From Vassal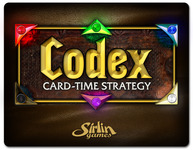 Files and Module Information
Comments
MODULE I NOTES
Version 1.3
V1.3 supports the colorful playing board and more automation functions. Not for use with any of the Module II files.
Version 1.4
V1.4 has even more automation functions, such as discard/draw step as a one click button. Maps and Tokens extension forthcoming.
Each Codex can be populated by right clicking a spec in the factions page and sending it to one player or the other. Starting deck is determined by which spec is chosen first.
The Extensions work with V1.4, and add the Print and Play color factions to the list of factions. The cards are blank of rules text, and I have modified the .bat file (https://sourceforge.net/projects/codex-vassal-pnp-import/files/codex_pnp_to_vmdx_v2_M1.bat/download) created for MII for use with these extensions,. Please support the Print and Play.
MODULE II NOTES
Version 1.1
Version 1.x is only the starter set.
Version 2.2
Codex_2.x is the base of the game plus all of the starter cards.
To add the rest of the cards you just need to add the Codex_all_decks_no_text.vmdx
Version 2.3
Changes:
Updated board graphic
Updated messages
Updated Player Hand buttons
Added a Discard All button to Player Hand
Added more "Send-To" options for most cards
Added Gold Counter
Version 2.4
Changes:
Tokens have Send-To menu
Chits can now be deleted
Added button to hand (discard 1 @ random)
Updated board graphic (again)
Updated codex grid
Zoom now always un-rotated
Added Chit commands
Tokens now on correct layer
New Codex card command Pick (flips and discards)
Known Bugs:
Counter text (sometimes) displays different than where it should
Extensions
Codex_all_decks_no_text.vmdx - All non-starter cards and tokens. | Compatible with 2.x
Codex_golden_button_update.vmdx - Adds a button to the player board. Sends coins to the base. | Compatible with 2.3 and above
Extra
To add the rest of the cards to 2.x you just need to add the Codex_all_decks_no_text.vmdx
All cards are 188x263 and the naming format is <cost>_<name>.jpeg (e.g. 7_lord_of_shadows)
Support Sirlin Games Print n' Play
IMPORTANT NOTE: Extractor tool available for Print and Play cards here
Screen Shots
Players