Module:Combat Leader: East Front '41
From Vassal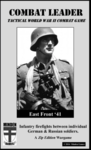 Files
Module Information
| | |
| --- | --- |
| Maintainer | alsandor |
| Contributors | |
Comments
The module was built to be simple and functional but here are a few notes for newbies.
The player's counters are masked from his opponent who will only see a plain coloured square whereas the side owning sees them as bordered in red. The four markers are invisible to the opposing side, keeping the fog of war as complete as possible. If players wish, they can change that by selecting "Hide / Reveal" for counters in the right-click menu and toggling "Invisible" (also in the right-clickj menu) for markers.
The deck of cards is automatically shuffled. The cards are simply drawn to the middle box then right-click to "Discard". The entire discard pile can be sent back to the Draw Deck if necessary and is automatically shuffled again.
Screen Shots
Players