Module:Cosmic Encounter (2008)
From Vassal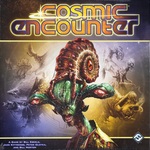 Files
Module Information
| | |
| --- | --- |
| Maintainer | i7evil |
| Contributors | |
Comments
The remaining expansions and more custom content will be added in future versions.
Would like to thank Jeremy Whitman for creating the original Cosmic Encounter Module which I used as basis for this.

Versions
1.1.2 - Added increased zoom capabilities and made the color differences between yellow and orange stronger.
1.1.1 - Force Field artifact added to the main deck
1.1 - Cosmic Incursion added, issues with Tech deck resolved
1.0 - Initial version ,some bugs
Screen Shots
Players
i7evil
Mister Gale
Timewiz