Module:D-Day at Omaha Beach
From Vassal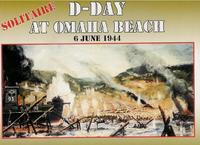 Files and Module Information
Filename
Filetype
Size
Date
Compatibility
Developer
Other Contributors
4.1
DDOBv4.1.vmod
Module
10.08 MB
2019-06-28
Vassal 3.2.17+
MKerby
KLGrandeDulginPeterlageri
4.0
DDOBv4.0.vmod
Module
10.08 MB
2017-08-01
Vassal 3.2.17+
MKerby
KLGrandeDulgin
3.1
DDOBv3.1.vmod
Module
10.03 MB
2015-11-27
Vassal 3.2.16+
Dulgin
KLGrande
3.0
DDOBv3.0.vmod
Module
10 MB
2015-06-15
Vassal 3.2.15+
Dulgin
KLGrande
2.0
DDOBv2.vmod
Module
9.65 MB
2010-03-01
unknown
KLGrande
D-Day at Omaha Beach User Guide V2.0.pdf
Updated for the changes in Version 2 of the module.
73 KB
2010-03-01
PDF
KLGrande
Comments
A Solitaire Game of the Americans Storming the Beach on June 6, 1944 - from Decision Games
Game Design by John H. Butterfield
D-Day at Omaha Beach recreates America's most bloody and heroic day of World War II. In this solitaire game from John H. Butterfield, designer of another newly released solitaire game RAF Deluxe and the solo classics RAF (originial) and Ambush, re-creates the epic struggle of the first hours of US troops landing at Omaha Beach on June 6, 1944.
Both D-Day at Omaha Beach and RAF Deluxe are published by Decision Games, whose web site is http://www.decisiongames.com.
In D-Day at Omaha Beach, you control the forces of the historic US 1st (Big Red One) and 29th (Blue and Gray) Divisions landing under fire on the Normandy shore, and struggling desperately to establish a viable beachhead. The game can be played by two-players, each cooperatively taking one of the US divisions.

If you do not presently own D-Day at Omaha Beach you may visit the Decision Games site to check on availability.

Vassal Module by Kevin Grande, expanded by Dulgin and further enhanced by MKerby. Some corrections done by Peterlageri.
D-Day at Omaha Beach is the third module created by Mr. Grande. The module faithfully recreates the board game experience, it actually enhances the computer experience by supplying separate turn tracks and aggregate actions to avoid excessive scrolling on a limited computer screen. Module is enjoyable to use and it is easy to manipulate units over the entire Omaha beachhead. The module offers extended value to those who do not have the space to set the board game up over an extended timeframe.
Mr. Grande has also created the Vassal modules, Close Action and Wilderness War by GMT.
History
Version 4.1 - 28/06/2019
At-Start Tanks did not return to the map on turn two if delayed as a result of landing in turn one. (Bad Data)
A Check It command for unit E/2/16 was removed as it reduced the unit by two steps and then removed it to the Beyond the Beaches scenario.
All German Reinforcement units got returned to the Reinforcement pool including any depth markers if already revealed and then adding a depth marker. Not so if reinforcement unit was unrevealed.
Withdrawal/Retreat for relevant German units now works properly. Key CTRL R used for this now. Any left behind depth marker must be deleted manually.
Bad data error for HQ16 in turns 31 and 32 fixed. The two turn delay of HQs must now by done manually.

Version 4.0 - 08/01/2017 Not compatible with previous versions. Read the Module User Guide for detailed information.
Bigger menu buttons.
Automated German setup.
Automated moving US units to approach zones and beach landings.
Integrated German disruption into the unit.
Automated card draw as you advance the turn counter through the phases.
Hotkey commands to draw depth counters directly to unit.
Why are you reading this? Download the module and play!

Version 3.1 - 11/27/2016
Turn Marker on Turn Track Board linked to Turn Counter
Adding new layers for Depth, German disrupted and US Units incl. show/hide buttons
Correct card deck reshuffel time (from start of turn 6/13/20/27 to start of turn 7/14/21/28) because deck will be reshuffeld at the end of turn 6/13/20/27
Correct predefenied setup bug for WN 69 (Rocket). Now it can be flipped
Adding function to show rocket range of WN 69

Version 3.0 - 6/15/2015
Redesign Card Board (click on each section to draw a card)
Adding US Control Range/German Blocking
Adding HQ Command Range
Adding Engineer Range
Adding function to show German artillery observer
Redesign Turn counter (automatic discard, reshuffel, end turn adjustments ...)
Adding zone to place Naval Fire Marker
Modified Loss counter
Correct right mouse button functions for German 352nd Devision units (if masked, withdrow is hidden)
Correct Setup instructions for szenario Beyond the beach
Adding alternate map from Michael Evans (Custom DDAOB Map)
Modify keyboard short cuts for german users
Different little changes

Version 3.0 is not compatible with older versions !!!!

Please send me feedback if you find any errors in the module design or have suggestions for improvement.
Version 2.0 - 3/1/2010
Added the removal of smoke pieces to the End Turn Marker Adjustment button.
Added a range counter to the US Engineer units.
Created a new splash screen.
Separated the US Leader counters (Generals, HQs, and Heroes) from the normal units as their game functions are much different.
Map: Updated WN 62N that was incorrectly showing a black dot and the hexside between 0707/0806 wasn't clear that it should be a bluff hexside.
Updated Module User Guide.
Version 1.0 - 2/23/2010
The initial module release.
Screen Shots
Players
KLGrande
pinoz64
jfischer317
Plutone
Craig104
DerDiplomat
Asyncritus
bdgza
alsandor
Dulgin
MadCartographer