Module:Dune Adventure Game
From Vassal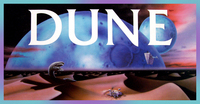 Files
Module Information
Comments
Based on the movie, Dune features photos of the stars on pawns divided into teams of three. Each character has its own Strength and Guile values. Players can move around the outer desert spaces to harvest monetary units of Spice or can move around the inner castle spaces to build up strength. Players can use Spice to buy random equipment cards, spice harvesters, or extra boosts of Guile when under attack. Players can also invest in the commodity markets that pay off on certain dice rolls. The artwork is slick, the rules are relatively simple, and games go fairly quickly since all fights are to the death.
Extensions
Two extensions are available for the game:
Blades of Arrakis adds a new character to each side in the game.
Powers and Prophets adds new, random special abilities for each side.
Screen Shots
Players
Mycenae
boronx
Netzilla
daxelos
Craig68x