Module:Dungeon Crawler
From Vassal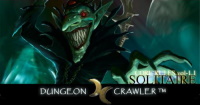 Files
Module Information
Comments
Dungeon Crawler is an adventure card game that is playable alone or with friends. You get to choose Adventurers, equip them, design your own Quests to conquer, seek out the evils that terrorize the lands, and save the Damsel. This intelligently designed game pulls together extraordinary art and fantasy flavor that can keep you spellbound in epic adventure.
Version 1.0 This is the first version of a fan made Vassal module for "Dungeon Crawler Inc". Beside "The Thorne"-Expansion all other Expansions are added to the module. Currently the Module only supports Solitaire Play.
© 2010 Gifted Vision. All rights reserved. Included by permission of the publisher.
Please support Gifted Vision!
Screen Shots
Players