Module:Elo Darkness
From Vassal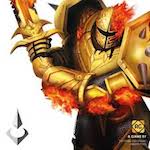 Files
Module Information
| | |
| --- | --- |
| Maintainer | gattsu |
| Contributors | |
Comments
ELO Darkness is a complete customizable card game in which two players (or four in the team vs. team mode) fight against each other in an epic MOBA-inspired arena.
This module is uploaded has the permission by Reggie Games
Version 2.0 Redone the Action Card selection. Focused more on Solo Play.
Version 1.0 This is the first draft of a Vassal module for the MOBA Game "Elo Darkness" (with kind permission from Reggie Games). It seems to function pretty well and was designed mainly for solitaire play. However I'm new to module design, so if you have any tips for improving it, or want to edit it yourself to improve it, please go ahead!
Screen Shots
Players