Module:Embrace An Angry Wind
From Vassal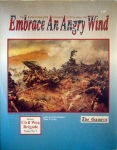 Files
Module Information
| | |
| --- | --- |
| Maintainer | Larry86 |
| Contributors | |
Comments
This is my fourth CWBS module. It contains all the features from my previous modules (reference Barren Victory module for more info). This module also has my updated new counters set (updated to newer style games in the series) and an original counter set (from the game box itself).
I have updated the order of arrivals for both sides for all known errata (there was a missing order and error in arrival times).
The Hood counter (new set) flips between three settings - mobile, immobile, and RIP, the original counter flips between mobile and immobile.
The map contains both the Spring Hill Map (Board B) and the Franklin Map (Board A) split by the turn chart. The three linkages between the maps have a grid on them to stack units as they transition between the map boards. The woods hexes did not digitize very well - and may require a second look at the hex to identify them as woods - but I have tried my best to make them as visible as possible - some hexes are just rather light.
See some of the screen shots below.
Enjoy
Screen Shots
Players